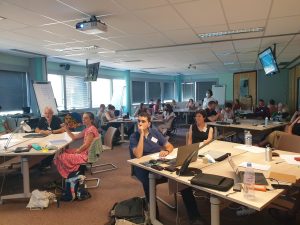 CoAstro was presented, by  one of the portuguese teacheres selected for the Climate Education Summer University 2022 (CESU).
This happened because of CoAstro's close relationship with the Sustainable Development Goals (SDG). Indeed, CoAstro reduces territorial inequalities (SDG 10), because it targets students and teachers of Portuguese regions, with lower spontaneous engagement with science. This also ensures inclusive and equitable quality education, leading to relevant and effective learning outcomes (SDG 4.1.) and including people with disabilities and children in vulnerable situations (SDG 4.5). CoAstroCoAstro ensures public access to information (SDG 16.10).
This summer school has selected 30 European teachers, preparing them to address the topic of climate change and climate modeling. It is part of the project Earth system models for the future 2025 (ESM2025), unded by the European Union under the program Horizon 2020.
CESU took place from July 18 to 22 at Météo-France (the French Metereology Institute), in the city of Toulouse.